Trademark: BSCI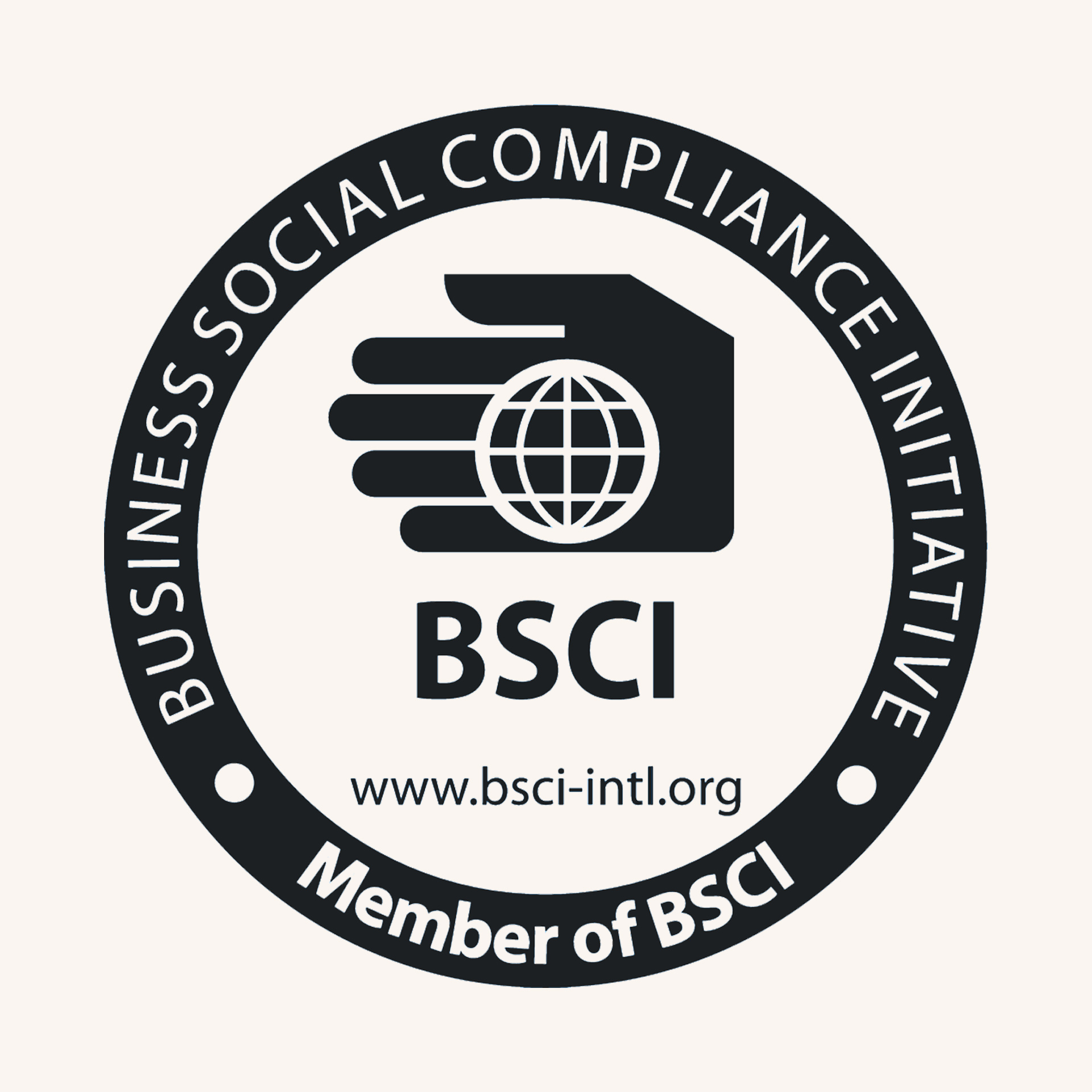 What is Business Social Compliance Initiative (BSCI)? The label aims to improve working conditions in factories. The Foreign Trade Association (FTA) established the BSCI label in 2002 for companies in the textile industry. A few years later the label was extended to the agricultural sector, making it applicable to industrial and primary production as well.
The BSCI hallmark is not a certificate, but a membership whereby a brand must comply with an internationally recognized code of conduct. A clothing brand does not have to meet all the conditions at once, because the organization recognizes that this is virtually impossible in the current clothing industry. It also encourages a gradual move towards SA8000 certification. The BSCI label is not given to an individual product or supplier, but to a clothing brand as a whole, looking at all production facilities in the chain.
Better working conditions
The BSCI Supervisory Board considers whether a company can become a member. Clothing brands and their suppliers who are members of the BSCI are helped by the organization to improve working conditions in the factories. Together with BSCI, the clothing brands draw up an improvement plan. This plan states how the factories can work step by step towards, among other things, the right to form a trade union within the factory, safe working conditions and no forced or child labor.
It is important to note that the BSCI label does not guarantee that the working conditions are already acceptable. However, membership of the BSCI does provide evidence that the clothing brands and factories are working hard to meet the 11 conditions of the BSCI Code of Conduct.
The 11 conditions of the BSCI Code of Conduct are:
All workers have the right to form unions and bargain collectively.
No discrimination in the workplace when it comes to hiring, promotions, training, retirement plans, etc.
At least the legal minimum wage should be paid. Workers have the right to a living wage that must be paid on time and in full.
There are "normal" working hours, meaning no more than 48 hours of work per week, one day off every seven days, and no more than 12 hours of overtime. Overtime should not be too frequent and workers should be paid a higher wage for it.
Clean and safe working conditions, which means that corporal punishment, unusual punishment, sexual and other harassment by the employer is prohibited.
No child labor, which means no children under the age of 15, or younger than the minimum working age if it is higher than 15, may be employed.
Employees under the age of 18 may not do dangerous work and must comply with compulsory education if there is one. They are also not allowed to work at night.
There is secure employment, which means, among other things, that there is a legally binding labor contract.
There is no forced or prison labor.
The environment must be protected.
There is an ethical way of working without corruption.
Verification
To become a member of BSCI, a participating clothing brand must use a monitoring system. In this way, it is checked to what extent all suppliers meet the set requirements. In addition, independent audits are carried out by accredited third parties. Clothing brands are tested during these audits to see if they fit into a framework within a number of years. After 3.5 years, a clothing brand must meet the requirements within the 'Audit Cycle 1' framework and after 5.5 years it must meet the requirements of the 'Audit Cycle 2' framework.
At Take It Slow, you will find the brands Ecoalf, T.I.T.S. and Denise Roobol who are members with the BSCI hallmark.