How we will reduce the impact on the planet together with you
At Take It Slow, we offer a selection of sustainable clothing brands that all contribute to a fair, sustainable and innovative clothing industry. Making 100% sustainable clothing would of course be nice, but this is not going to happen. Every new product made will have a negative impact on our planet. Our brands and we do our best to reduce this impact. In this way we ensure together that we have respect for people, animals and the environment.
From the moment all new items arrive in our warehouse to the moment the orders are delivered to our customers, we try to make all our choices in a conscious and sustainable way. Are you curious about what we are already doing, what you can do, and what our plans are for 2023? Read more on this impact page.

Sustainable Take It Slow packages
Every day, all Take It Slow orders are packed with love. Besides doing this with care and attention, we also consciously use the most sustainable packaging materials possible. After all, we want to deliver sustainable clothing in the most sustainable way possible. This is what we do:
100% recycled shipping bags
The shipping bags we use are made from 100% recycled plastic products such as single use plastic bags and/or bottles. This plastic is processed into shipping bags at a recycling facility. This doubles the original lifespan of single use plastic. If a customer wants to return an order we even triple it. This is because the shipping bags have a convenient second adhesive strip that allows the shipping bag to be reused for a return. Customers who keep the order, we like to request that they dispose of the shipping bag in the appropriate plastic residual waste container after use.
In addition to recycled shipping bags, at Take It Slow we use shipping boxes that are certified with the FSC label. This seal shows that the material used to make boxes comes from responsibly managed forests. In addition to requirements for forest management, FSC also applies social requirements such as responsible working conditions for forest workers.
We have chosen stickers made from paperwise. This is an environmentally friendly material that consists of 100% agricultural waste. As a result, no trees have to be felled during production. The stickers are also biodegradable due to the compostable glue: BioTAK®.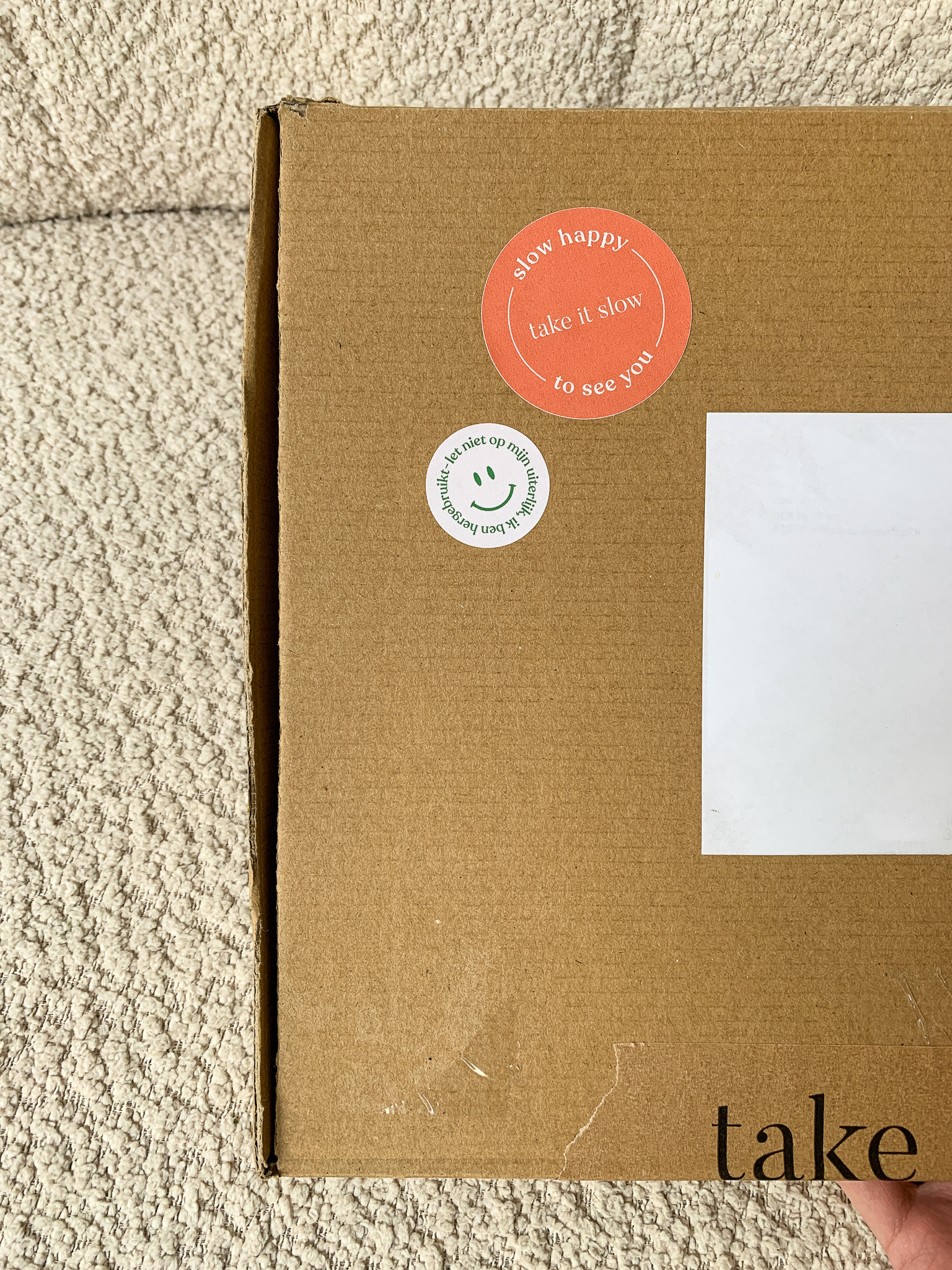 We love to reuse and recycle boxes until they really can't be reused anymore. That is why some customers receive a less beautiful, previously used box. Of course only if the contents can be delivered to the customer undamaged. These boxes can be recognized by the 'Hi I'm reused ;)' text on the box. Take It Slow does not only reuse boxes that are returned by customers, but also other boxes that we have received from, for example, our suppliers. In this way, we try to limit one-time use of cardboard as much as possible. 
When the first purchased box with 36 rolls of plastic tape finally ran out, we switched to paper tape. Simply because it is more durable. The paper tape has a natural rubber adhesive layer, which can be recycled along with the cardboard box. With this small change, the Take It Slow packages have become one step more sustainable.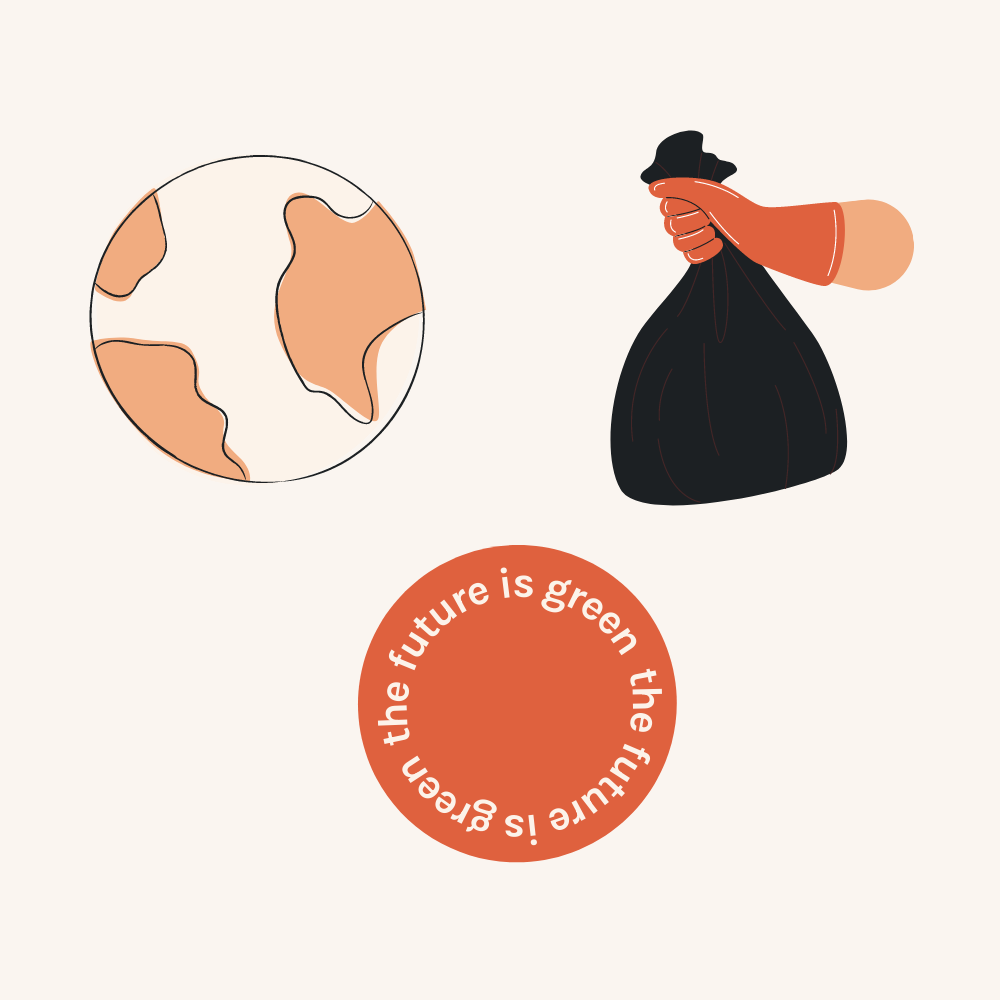 Positive impact through collaboration & donations
Take It Slow collaborates with other sustainable organizations to make as much positive impact as possible. We do this by organizing (free) events like the Slow Clean Up and campaigns like Green Friday. But also by donating to charities.
November 2020, Slow Clean Up - In collaboration with The Sunshine Journey and the City of Amsterdam we organized the Slow Clean Up. During this event we invited our then neighbors to join us for a long walk through the Rembrandtpark and pick up litter at the same time with a pair of grabbers. In this way we not only took care of our own health but also of nature in our city.
November 2021, Green Friday - At Take It Slow, November 2021 was not Black Friday but Green Friday. On this day we donated €1 from every order to Trees For All. With 105 orders placed on this day, we were able to plant 21 trees in the Netherlands & Vietnam.
We aim to support many more of these great initiatives in the future. Soon we will share our donation plan for 2023.

These where our impact goals for 2022 and 2023
We believe it is very important to continue to develop in the field of sustainability. Corporate social responsibility is therefore at the heart of Take It Slow. Every year we take a close look at our company in terms of people, planet and profit. For example, we have set a number of sustainability goals for ourselves for 2023. We will continue to share these on this page throughout the year.
Delivery by bicycle courier (not achieved yet)
Currently, we ship our Dutch packages through PostNL and our foreign packages through DPD. These postal companies often send their packages with a van, which causes CO2 emissions. Even though DPD and PostNL are continuously improving their sustainability, we believe that there are more sustainable options that are more in line with Take It Slow. Using a bicycle courier seems to us to be a nice option to send the Take It Slow orders as green as possible. This way, the shipping of the packages does not contribute to CO2 emissions or contributes as little as possible. We are currently looking at the possibilities of switching to bicycle delivery in 2023. This means that orders in more than 60 cities will be delivered by bike. In the cities that do not yet have bicycle couriers, the delivery will be done via a green gas vehicle.
The reason we are not yet working with a party such as bicycle courier is because we would have to be present in the warehouse at an agreed fixed time every day. This is currently not possible for our small team.
Donate old stock (achieved December 2022)
The clothes that remain in the warehouse at the end of the fashion season are sold for a nice price via the Archive Sale on Instagram. Follow our @takeitslow.archive account here. However, after an Archive Sale there are always some items left over. We still want to find a nice destination for these items. We are now researching where we can best donate this stock. We were thinking of organizations like Salvation Army ReShare or Dress for Success. Of course we want the clothes to end up with people who really need them. That is why we think it is important to first do proper research on where we can donate our stock, before we actually do this.
Offering Guppyfriend (achieved January 2022)
In the webshop we sell clothing made from recycled polyester. This sustainable material gives plastic waste a second life. Unfortunately, there is a downside to clothing made from this fabric. During washing, very small microplastics are released. These particles are so small that they can pass through everything and end up in the surface water via the washing machine drain and subsequently in the sea. Fortunately, there is a solution for this, namely the GuppyFriend laundry bag. By washing clothes in this bag, you catch the microplastics that are released. After a while, you can easily remove these from the laundry bag. Our goal for January 2022 was to offer these laundry bags in the Take It Slow webshop. So that customers have the possibility to order such a laundry bag with the articles made of recycled polyester.

What impact do you make?
Not only Take It Slow creates a positive impact in the fashion industry, you can also play a big role here. A sustainable, fair and innovative clothing industry. What fashion lover doesn't want this? Chances are you want to contribute to it, but you don't know how. By shopping at a small entrepreneur such as Take It Slow you support an idealistic enterprise. With every euro you spend you vote; 'I would like to have this product, this brand is doing good'. Which companies and brands do you want to spend your money on?
In addition, you make an important choice when you choose slow fashion. For example, you support all the people in the entire supply chain who produce the clothing with a lot of love and attention. Everyone who participates in making sustainable clothing is treated well and paid fairly. From the raw material to the actual making up, everything is done with the least possible negative impact on the earth. By choosing Take It Slow, you are choosing:
1. Sustainable fabrics
All items from Take It Slow are made of sustainable fabrics and materials. There are many beautiful sustainable materials that are suitable for the production of clothing, and often they have many advantages. For example, we have materials that have been preserved such as organic cotton instead of conventional cotton or recycled polyester instead of polyester. But also entirely new innovative materials like EcoVero™, Tencel™ and vegan microfibre 'leather. All these materials use less water, fewer or no chemicals and lower CO2 emissions. Want to learn more about sustainable fabrics? Check out our sustainable materials guide.
2. Fair Production
All clothing at Take It Slow is produced fairly, often in countries close to home. The ateliers are regularly visited by the brands and have to meet strict requirements. There are also labels such as the SA8000 label and Fairtrade label that can prove that the ateliers have safe, healthy workplaces and good working conditions for the employees. However, if a brand does not have this certification, it does not mean that fair production is not taking place. These certificates cost a lot of money and young brands often do not have this budget (yet). It is important that a company is transparent about their production and can prove this to us. We will find out for you!
3. Timeless quality items
At Take It Slow we do not respond to fast successive trends, but we have a selection of timeless items chosen with love and care. Made of durable high quality. By choosing timeless items you avoid clothes that quickly go out of fashion and end up in the back of your closet. At Take It Slow we are always looking for the right balance, still stylish and fashionable, but not trend-driven. At Take It Slow you shop beautiful, high-quality items that are always easy to combine with each other.