Caring for your Veja sneakers
How do you clean your Veja sneakers? Sneakers get dirty quickly. But what is the best way to clean your sneakers? The sneakers of Veja consist of different parts which all need to be cared for slightly differently. Below we give you some cleaning tips.
Cleaning cotton/flannel sneakers

For Veja sneakers with a cotton/flannel outer layer (some Venturi models, SDU flannel) it is important that you do not put them in the washing machine despite the fact that they are made of cotton. The heat can cause the rubber (or leather) parts to come loose from the canvas fabric. The laces could be put in the washing machine. The rest of the sneakers should always be cleaned by hand. First, if necessary, rub the coarse dirt off the shoe with a cloth. Stains that are still visible can best be cleaned with cold water and Marseille soap. If necessary, use an old toothbrush to scrub away stubborn stains. Then pat the surface dry and let the sneakers air dry.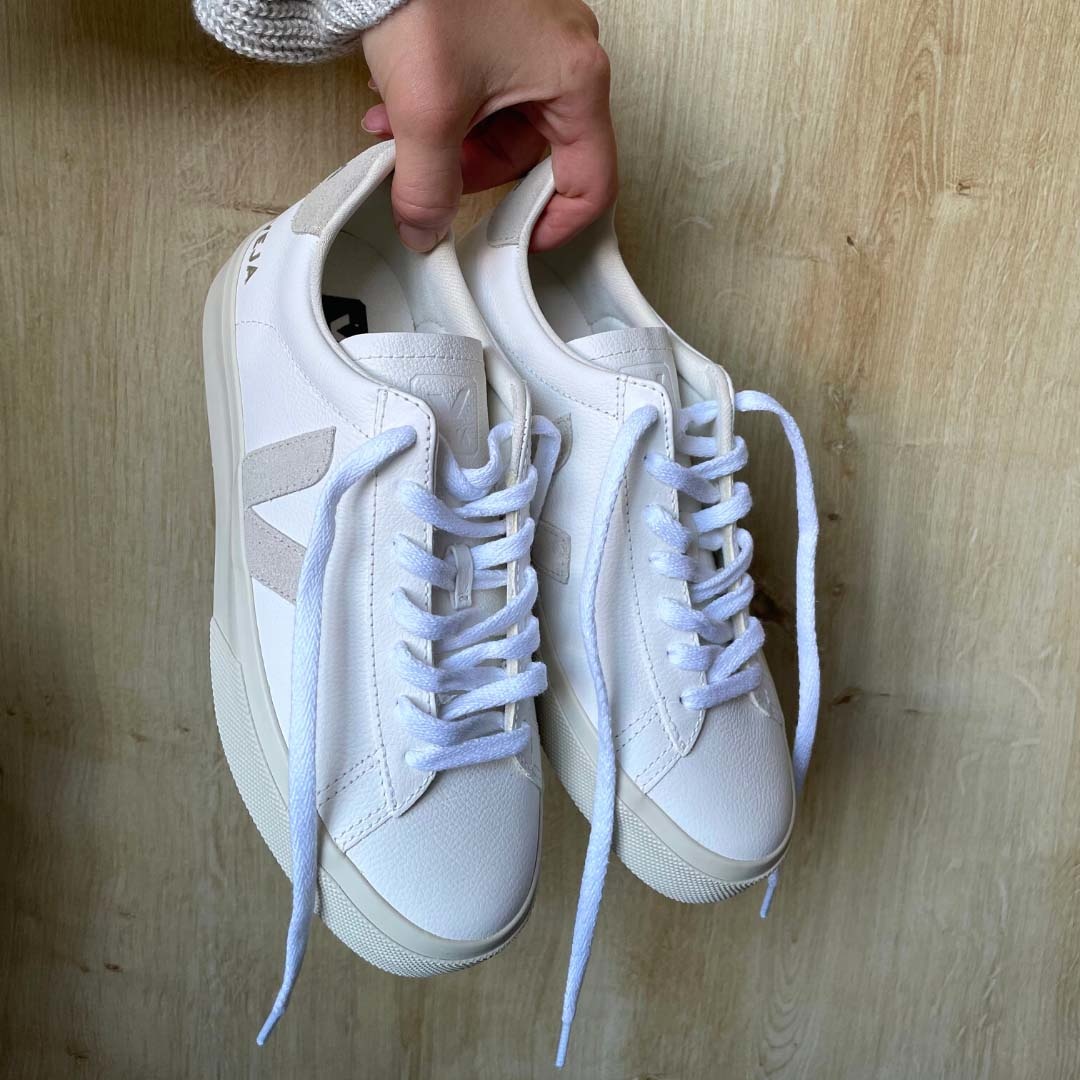 Tips for cleaning leather sneakers

Leather Veja sneakers are generally easier to clean because stains do not soak into the material like cotton/flannel. Maintain the smooth leather of the shoes with a damp cloth and periodically with a specific product spray or cream. You may notice that your leather shoes are prone to streaking and scratching. One solution to this is a mixture of cold water and natural vinegar. Pour some water and the vinegar in equal parts into a container and rub the leather surface well with an old cloth. You will see that the stains and scratches will disappear like snow in the sun. Any scuffs in leather can be made beautiful again by using shoe polish. A nice sustainable tip for making this yourself is to wet an old cloth and dip it in a jar of baking soda. Rub this over the wear spot and then dry with a clean cloth. Baking soda works for any color, so you never have to get separate shoe polish for each color shoe again.
Cleaning suede sneakers

Suede is a beautiful fabric that gives your sneakers a luxurious look. Most Veja sneakers contain panels made from suede, both vegan and animal. With suede it is important that it does not get wet. So does your sneaker contain a lot of suede? Then don't put them on on a rainy day. Are there streaks or stains on the suede? One tip is to remove them with an eraser. Rub the spot gently and erase the spot easily. Another way to get rid of stains is to steam the shoes. To do this, put boiling water in a large bowl and hold the sneakers for 1 to 2 minutes about 10 cm above the bowl so that the sneaker is as it were steamed and the dirt can soak off. Then gently brush the dirt off the sneakers. Remember that it is best to brush in the same direction, rather than back and forth. Be careful not to use soap or vinegar on suede. This runs the risk of discoloring your shoes.
How to keep the insole of your sneakers clean

Do your insoles not smell fresh anymore? They can be maintained by scrubbing them or putting them in the washing machine. A good tip for this is the use of vinegar (yes this wonder drug you really need to have in the house). Take a cloth for each shoe and wet it with a mixture of vinegar and water (ratio 2 to 1). Squeeze the wipes so they are moist, but not too wet. Then put these wipes in your shoes and leave it overnight. The next day, take them out and let your shoes air out a little more. After that, they are completely fresh for use again.
Prevention is always better than cure, so be careful with your sneakers and protect them before you wear them. This can be done with a spray that protects against stains and rain. There are many sustainable/environmentally friendly sprays available today. Choose a spray that is suitable for all different materials in your Veja sneaker.